Description

The MRX-010 is an ASK/OOK (ON-OFF Keyed) RF receiver that operates at 315, 390, 418, and 433 MHz, and is primarily intended for use in part 15.231 systems. The receiver is recommended for new designs replacing the MRX-007. It provides the same function with sensitivity enhancement, typically 6dB better than the MRX-007. Just like all other members of the Radios, Inc. Micrel RF Module family, the MRX-010 achieves low power operation, a very high level of integration, and it is particularly easy to use.
All post-detection data filtering is provided on the MRX-010, so no external baseband filters are required. An external antenna is the only component required, therefore the receiver can be easily integrated into other applications.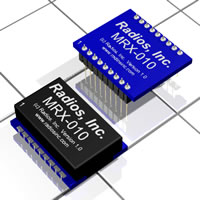 The MRX-010 works in fixed-mode operation, which functions as a conventional super-heterodyne receiver. Fixed-mode provides better selectivity and sensitivity performance in comparison with sweep mode used in other Radios, Inc. receivers intended for lower cost applications.