Description

The UAA3201 Development System comprises the hardware, firmware and software resources commonly used by wireless designers in the design and development of wireless applications. The UAA3201 Development System (DSUAA3201) offers a comprehensive test suite that allows the developer/designer to vary a number of electrical firmware, software and antenna parameters to facilitate the optimal architecture and topology for the given application being developed.

The UAA3201 Development System ("DSUAA3201") is intended for use solely by engineers for the purpose of evaluating the feasibility of implementing the DS-UAA3201 in various wireless applications.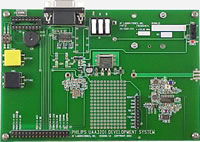 Key Features



The development system includes
two evaluation boards with the following features:



Oscillator with external Surface Acoustic Wave


Resonator (SAWR)


Wide frequency range from 150 to 450 MHz


High sensitivity


Low power consumption


Automotive temperature range


Superheterodyne architecture


Applicable to fulfil FTZ 17 TR 2100 (Germany)


High integration level, few external components


Inexpensive external components


IF filter bandwidth determined by application.
Typical Applications



The two development boards along with the supporting firmware and software have a wide range of uses for the evaluation and development of wireless applications.



Car alarm systems


Remote control systems


Security systems


Gadgets and toys


Telemetry